It's not magic, it's VETSET!
VETSET® is a superior Cocoa Butter treatment for your pets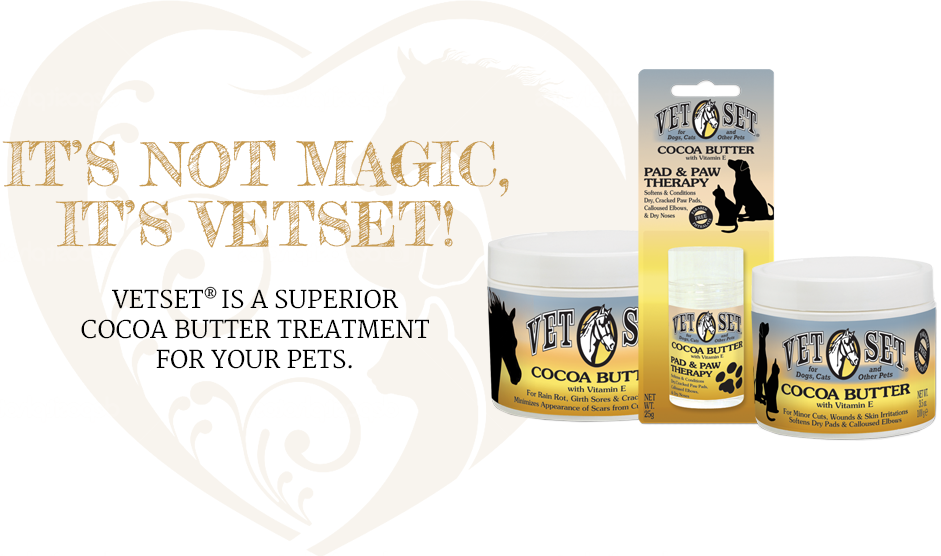 ---
At VETSET products, our focus is on proper care and treatment
for Equines, Canines and Felines.
VETSET was established in 1995 for the specific purpose of developing highly effective veterinary care products
based on proven natural ingredients.

VETSET Cocoa Butter is the number one brand of cocoa butter based veterinary products and is a must for every pet owner!

Our unique blend of cocoa butter, vitamin E and microcrystalline waxes provides a semi-occlusive coating for cuts, wounds, abrasions, and minor skin irritations,  allowing them to heal quickly and naturally.

Our products are Paraben Free/Phthalate Free and are now enhanced with a combination
of additional beneficial natural ingredients including :
              Shea Butter,  Aloe Extract,  Oatmeal Extract,  Sunflower Seed Oil,  Sweet Almond Oil,  Panthenol & Lavender Oil *
*Lavender Oil is added to Vetset's 7.25 oz. Jar (for Horses).   
It is NOT recommended for use on cats and it is not in our other two products :
VetSet 3.5 oz. Jar for Dogs, Cats and Other Pets
VetSet Pad & Paw Therapy Applicator Stick, .9 0z. 

When it comes to taking care of your dog, cat , horse, or other pets...
VetSet Cocoa Butter is the Natural Choice. 
For your pet and your peace of mind, try VetSet today !
_______________________ 
 You can even use it on yourself too !