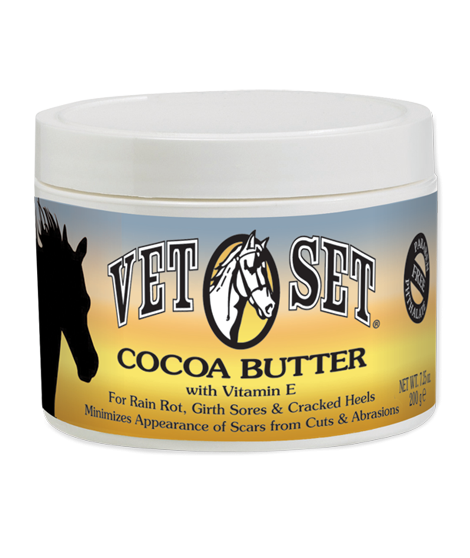 Maximize
For Rain Rot,
Girth Sores & Cracked Heels
Minimizes Appearance of Scars
from Cuts & Abrasions
V2000
VETSET Cocoa Butter with Vitamin E Jar, 7.25 Oz., 200g.
7.25 oz., 200g Jar
For Rain Rot,
Girth Sores & Cracked Heels
Minimizes Appearance of Scars
from Cuts & Abrasions
VETSET® Cocoa Butter, enriched with Vitamin E, in a soothing emollient base.  Minimizes the appearance of scars resulting from cuts, wounds and abrasions and helps promote regrowth of hair.  A superior treatment for rain rot, girth sores, cracked heels, burns, dew poisoning, fungus & scratches.


PARABEN FREE / PHTHALATE FREE


*Lavender Oil in this individual product is NOT 
recommended for use on cats.

For cats we suggest you try our other two items:   
VetSet for Dogs, Cats and Other Pets (3.5 oz. Jar) 
VetSet Pad & Paw Therapy .9oz. (Applicator Stick)



VETSET® IS A MUST IN EVERY TACK ROOM !


VETSET® IS AGAINST ANIMAL TESTING
Mineral Oil (Paraffinum Liquidum)
Microcrystalline Wax (Cera Microcristallina)
Theobroma Cacao (Cocoa) Seed Butter 
Butmum Parkii (Shea Butter)
Dimethicone 
Aloe Barbadensis Leaf Extract 
Avena Sativa (Oat) Meal Extract
Helianthus Annuus (Sunflower) Seed Oil 
Lavendula Angustifolia (Lavender) Oil 
Panthenol 
Tocopheryl Acetate 
PVP/Hexadecene Copolymer
Beta Carotene (CI40800) 
Zea Mays (Corn) Oil
Fragrance (Parfum)


PARABEN FREE/PHTHALATE FREE

VETSET® IS AGAINST ANIMAL TESTING
Directions:
Wash & dry area to be treated. 
Apply VETSET liberally and leave on for a minimum of 12 hours.  
Wash & repeat treatment. 

Caution:         NOT HARMFUL if ingested or licked.  
                      Do not apply to open, oozing wounds.  
                      If irritation occurs, discontinue use.  
                      If condition persists, consult a veterinarian.

*  Lavender Oil in this individual product is NOT
recommended for use on cats.

For cats we suggest you try our other two items:
   VetSet for Dogs, Cats and Other Pets (3.5 oz. Jar)
   VetSet Pad & Paw Therapy, .9oz. (Applicator Stick)
 
PARABEN FREE / PHTHALATE FREE     
                                 
VETSET® IS AGAINST ANIMAL TESTING